Job Fair
Mini Job Fair
Interested in gaining work experience within a library setting?
The Barrington Area Library is recruiting for several year-round, part-time positions, with a focus on friendly customer service. These positions are within the Circulation Services department. Attend a mini job fair at the Library on Thursday, August 2, 2012, from 1 - 7 PM in the Zimmerman Room.
The library is located at 505 N. Northwest Hwy, Barrington, IL. Map it.
Come prepared to:
Fill out an application (attach resume if applicable)
Complete a written pre-screening test
Attend a brief interview
No appointments are needed - just drop in. Potential start dates are in late August. Only candidates considered for additional interviews will be contacted. Questions? Contact Human Resources by email at tsurprise@balibrary.org. To see full job descriptions and print a copy of this information, download this PDF.
The Barrington Area Library is close to the METRA station. We are an equal opportunity employer. All candidates accepting a position with the library must successfully pass a criminal background check if 18 years of age or older.
Library hours of operation:
Monday – Friday 9 AM – 9 PM
Saturday 9 AM – 5 PM
Sunday 1 PM – 5 PM
---
Looking for other library positions? See our Job Opportunities page. Please note that we are only accepting applications for part-time, Circulation department positions at the Mini Job Fair.
about us

join our team:

special features: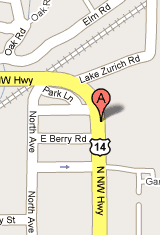 location and hours
505 N. Northwest Highway, Barrington, IL 60010
P: 847-382-1300
F: 847-382-1261
Mon-Fri: 9 am - 9 pm
Sat: 9 am - 5 pm
Sun: 1 pm - 5pm
contact us
Adult Services
adultref@BALibrary.org
847-382-1300 x1
Circulation (Renewals and account info)

circulation@BALibrary.org
847-382-1300 x3
Youth Services
youthservices@BALibrary.org
847-382-1300 x2