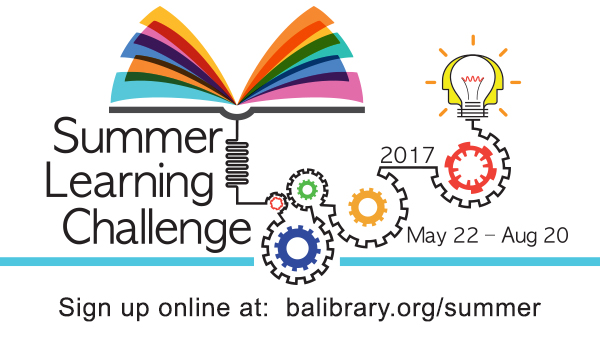 Gear up for a summer of reading, learning, and fun! Join the Summer Learning Challenge at the Barrington Area Library and: read that book you've been meaning to check out, try a new hobby, explore your passions, challenge yourself, and supercharge your summer!
How?
Join our community of readers and learners online at balibrary.org/summer.
Then read, write book reviews, attend classes or events, and complete other learning activities.
Track your points online to earn badges or prizes!
Who?
You'll find challenges and goals tailored to all ages: Pre-Readers (Birth-PreK), Readers (K-8), Teens, and Adults.
Why?
Kids who join the Summer Learning Challenge read, play, and stay curious all summer long. Summer learning leads to higher graduation rates and positive effects on children's self-esteem, confidence, and motivation. Adults - your brain benefits from reading and learning new things, too! Be a reading role model this summer.
All participants can help us reach our community reading goal of 12,000 books/120,000 points this summer. When we reach our goal, Barrington Bank and Trust will generously donate $1,000 to the Cuba Township and Barrington Township Food Pantries.
Registration is now open, and the Summer Learning Challenge continues through August 20, 2017.