Private Richard Douglas Combs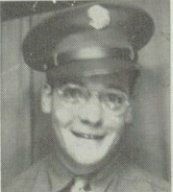 1925-1944
USA
WWII
Richard Douglas Combs was born 22 July 1925 in Hazard, Kentucky to James and Gertrude A. Combs.
He had moved to the south side of Chicago by 1940, and lived with his sister and brother-in-law, while working for a printer. Enlisting 21 Sept. 1943, he served in the 120th Infantry, 30th Division, Company G.
He died in France 16 July 1944, 6 days short of his 19th birthday.
-----
Remember. Honor. Teach.
Courtesy of Signal Hill Chapter, National Society Daughters of the American Revolution