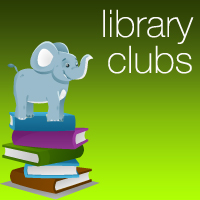 Complete a variety of reading activities to earn fun rewards. Library clubs are a great way to maintain reading skills when school isn't in session, or to encourage free reading.
Looking for some reading suggestions while waiting for the next club? Try this page.
---
Winter Library Club
Come back in 2014 for our next "Read To Succeed Winter Library Club with the Chicago Wolves."
Feb 3 - Feb 28.


---
Summer Library Club - Have Book, Will Travel
Summer Library Club for kids is over for another year. Thanks for making the reading journey with us!
Congratulations to the students of Barbara B. Rose Elementary School in South Barrington, who have captured the Summer Library Club trophy this year!
---
Kindergarten Reading Club
Barrington Area Kindergarteners can join the club while visiting the library. Look for the next Kindergarten Reading Club in 2014.  Log into the Kindergarten Reading Club site.