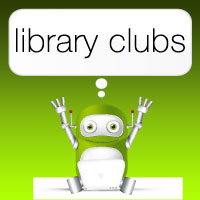 Complete a variety of reading activities to earn fun rewards. Library clubs are a great way to maintain reading skills when school isn't in session, or to encourage free reading.
Looking for some reading suggestions while waiting for the next club? Try this page.
---

Marge Luther School Days Programs:
School Days Reading Challenge and Library Learning Challenge
Grades K - 2
Oct 1 - Nov 30, 2016

Celebrate the start of the school year with our annual Marge Luther School Days Programs, which are funded by an endowment from former Barrington teacher Marge Luther.
School Days Reading Challenge for Grades K-2: Sign up online for the School Days Reading Challenge. Read 500 minutes to earn a personalized READ poster, and complete the "Reading Explorer" badge to receive a free book.
Library Learning Challenge: Families, stop by the library during October and November to play the Library Learning Challenge. Part scavenger hunt, part creative exercise - become a library expert while having fun! Open to all ages.
---
Winter Library Club:
Dec 21 - Jan 31
Read To Succeed Winter Library Club with the Chicago Wolves is over for this year.

Preschool Club (Birth - K):
Collect stickers for library visits and receive a free book when you reach your goal.
Student Club (Grades K - 8):
Score a free book and complete 10 reading activities to be entered to win Chicago Wolves tickets. Log more activities to earn more chances to win tickets and other prizes.
---
Summer Library Club: Summer of Adventure at Camp BAL!
Thanks for joining us on a summer of adventure. Summer Library Club 2016 has now ended.
Why join the Summer Library Club? Summer learning opportunities lead to higher graduation rates and positive effects on children's self-esteem, confidence, and motivation. Kids who join Summer Library Club read, play, and stay curious all summer long, at home, at the library, or on the go. That lessens the effect of learning loss, which often occurs during time off from school.