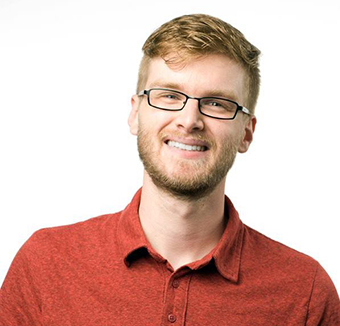 Jesse Henning will be the new Executive Director of the Barrington Area Library.
The Barrington Area Library and its Board of Trustees are pleased to announce that Jesse Henning will be the library district's new executive director. Henning's first day on the job will be Monday, April 16, 2018.

Following the retirement of former director Detlev Pansch in September 2017, the library's Board of Trustees worked with Bradbury Miller Associates of Kansas City, MO, on a nationwide search to find a new executive director. From a field of several dozen applicants, Henning was one of five candidates to be interviewed in person by the board and core library staff.

"Jesse is a gifted leader with all the traits and experiences needed to build upon the Barrington Area Library's rich heritage of exemplary customer service and innovation," said Don Minner, president of the board of trustees. "We are confident that the staff and community will feed off his passion, and embrace him as he guides the library into the future."

Henning has served as executive director of the Garfield County Public Library District, in Colorado, since 2016. In that position, he coordinated library services across a six-branch system, serving 58,000 residents, with a total operating budget of $4.5 million.

Prior to that, Henning worked for ten years as both youth librarian and adult services librarian at the Westerville Public Library, in Westerville, OH. Henning holds a Master of Library and Information Science degree from Kent State University, and is currently working on a Master of Public Administration degree, also from Kent State.

When asked what attracted him to the Barrington Area Library, Henning responded, "Throughout the interview process and the in-person meeting, I couldn't help but get excited about the creative ideas I heard from the staff and their infectious enthusiasm for creating meaningful connections between people in the community and their public library. That, and the giant indoor slide."

Henning credits time spent working with new immigrant children in a homework help center with opening his eyes to how libraries made a positive impact in peoples' lives, "a place between work and school that was welcoming, safe, and helpful."

Henning is passionate about the role of public libraries in American communities. "Libraries support our most fundamental rights and allow people to freely exercise those rights, by reading what they want to read, without censorship, organizing or attending a community event at the library, or using library resources to research how government works and how to contact elected officials. The library is the perfect place for folks to do the hard work of democracy that helps us build better and more livable communities."

On a personal note, Henning is "a big fan of board games with confusing rules and hundreds of pieces." He took last place in two cyclocross races in Colorado, "and I hope to bring that tradition of athletic success to the Chicago Cross Cup this year." Library staff noted he was quick to join an impromptu virtual hockey match in the Youth Services department while touring the building. The last time he and his wife were in Chicago, they both tried out for Jeopardy!

Watch the library website, balibrary.org, for details on a public event welcoming Executive Director Henning.