Welcome!
The Youth Services department is located on the first floor of the Barrington Area Library.

The Library building reopened to the public on Monday, July 27. The Youth Services play area, interactives, computers, and iPads are available at this time. We hope your family will visit us to enjoy browsing for books and movies you can take home and share with each other. We will continue to offer a wide variety of online story times, events, and also outdoor story times, Take And Make Kits, and other surprises - watch the Events Calendar! Contact us for more details.
---
Read our latest blog post
Daniel Tiger on Kanopy Kids: What Happens When We Do Something New?

Watch "Daniel Visits School/Daniel Visits the Doctor" on Kanopy Kids using your Barrington Area Library card number to log in, and come back to this blog post to enjoy some family activities that will enhance your child's learning around the episode. 

 

Now that you've watched the episode, here is a companion video that will demonstrate some ways to practice mindfulness when your child is feeling nervous or worried.

 

 

 

Here are some questions that will help you unpack some of the topics in the episode with your child.

Is there something new in your life that you are nervous or worried about? What is it? What questions do you have about the new thing? Talk through some of your concerns with a trusted adult.  Sometimes just talking about it helps you feel better, and they can help you answer some of the questions that you have!

When you feel nervous or worried about something, how does it make you feel? Can you think of something to do that might make you feel a little better? What are some things that make you smile?

 

Below are some other activities to try as a family.

 

Here are the books I mentioned in the companion video.

| | |
| --- | --- |
| | Here and Now by Julia Denos, illustrated by E.B. Goodale |
|   |   |
| | Quiet by Tomie dePaola |
|   |   |
| | Listen by Holly M. McGhee, illustrated by Pascal Lemaitre |
|   |   |
|   | Tiny, Perfect Things by M.H. Clark, illustrated by Madeline Kloepper |
|   |   |
|   | Big Breath: A Guided Meditation for Kids by William Meyer, illustrated by Brittany R. Jacobs |
|   |   |
|   | Your Mind is Like the Sky: A First Book of Mindfulness by Bronwen Ballard, illustrated by Laura Carlin |

 

---

    Youth Services Assistant Librarian Stefanie Molinaro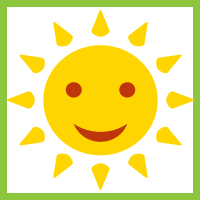 You've found the Secret Code!
CREATE JOY