Phased Reopening Plan
Updated June 14: The Barrington Area Library welcome customers back into the digital studios! Staff will be able to answer brief questions in-person, but if you expect you will need additional support, you can set up a 1:1 appointment by sending an e-mail to: digitalservices@balibrary.org Our staff will work with you to get the assistance that you need, either virtually or in-person. You can also learn more by reading our digital studios tutorials , or visiting LinkedIn Learning for support with the professional creative software in the digital studios. 
---
Individuals and groups grade 8 and below - visit Studio Kids
Located on the first floor in the Business & Technology Center, Studio 1 is a great place to work on digital projects for work, school, or home. Whether you want to use Photoshop, play with our green screen, make a new musical composition, or work with one of the many pieces of hardware & software, Studio 1 has the tools you need. To learn what you can make in Studio 1 try our digital studios tutorials or begin with one of our getting started guides:
---
Barrington Area Library cardholders grades 9 and up can make a reservation for one person to use Studio 1, for 1 hour 45 minutes, up to seven days in advance. One renewal will be allowed if no other customers have existing reservations. Need help getting started in Studio 1? E-mail: digitalservices@balibrary.org
---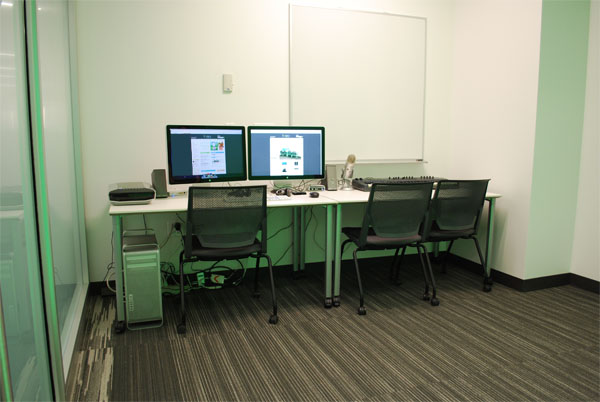 studio 1 procedures

The studio is open to individuals going into 9th grade and older to work on projects requiring the use of the equipment.

• Studio 1 has a limit of four people
• Reservations may be made one week in advance by Barrington Area Library cardholders.
• The studio may be reserved for a maximum of 1hr 45min. One extension is allowed at this time if no other customers have a reservation.
• Reservations will be held for 10 minutes, after which the entire period reserved will be forfeited.
• Room capacity: Four
software
Adobe Creative Cloud
Additional Software
equipment for checkout
Barrington cardholders can check out the following digital studio equipment for up to one week.
Instructions for the VHS to Digital Transfer Kit: Instructions for PC or Instructions for Mac. To burn the digital file(s) to DVD please use - Instructions to Burn a DVD on a Mac