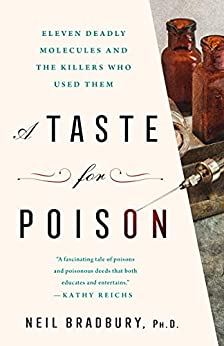 Mystery readers know that poison is one of the most enduring and popular options for the aspiring murderer. Poisoning can happen through eating and drinking, touching contaminated surfaces, or even just breathing the air. This versatility historically made poison a challenge to detect, and poisoners difficult to find and prosecute. In this fascinating blend of true crime and popular science, Bradbury explores the history and detection of poison through the stories of eleven notorious cases from ancient times until today. Click here to find a copy.
Try it if you liked: 18 Tiny Deaths by Bruce Goldfarb, I'll Be Gone in the Dark by Michelle McNamara, or Stiff by Mary Roach.
Need more? Try our personalized reading suggestions and get recommendations tailored to you!