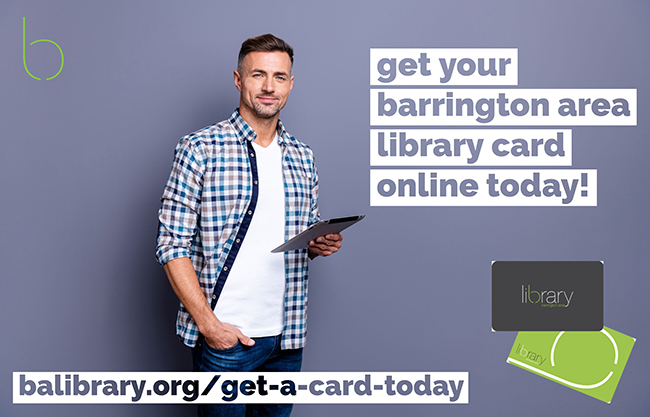 Welcome - we're glad you're here!
You can always stop by the Barrington Area Library during business hours to get a library card, but our Customer Service team can also sign you up for a new library card or renew your card online.
Why get a library card? Your Barrington Area Library card is your passport to new and innovative services like Parking Lot Pick-Up, Borrow By Mail, and Browsing Bundles, along with locker delivery. It also gives you FREE access to thousands of books, DVDs, e-books, audiobooks, magazines, and newspapers, along with streaming videos, digital music, as well as exclusive online and in-person programming.
Don't miss out on your Library benefits: sign up today!
Library cards are issued to individuals (and their family members) who own or rent property within the Barrington Public Library District. See a Library district map to check your address.
Ready to apply for a new card?
Sign up for an Adult library card.
Sign up for a Youth library card. This form is for children/teens from age 0 - grade 8.