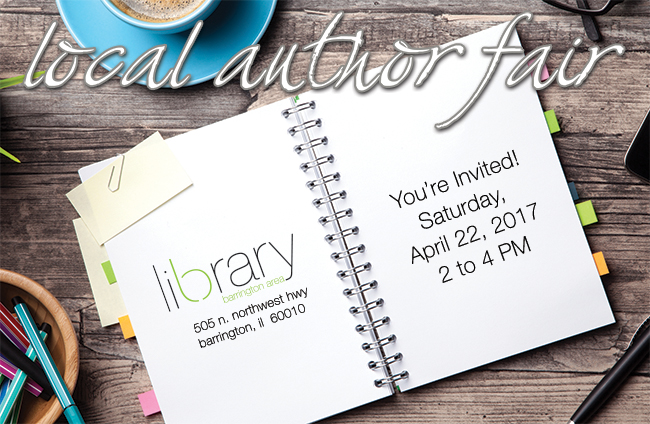 All are invited to the 2017 Local Author Fair at the Barrington Area Library!
Saturday, April 22, 2 - 4 PM | Part of Barrington Books Week
Pirates! Werewolves! Spies! Spaceships! From romantic poetry to timely, relevant non-fiction, from the heights of fantasy to the most down-to-earth contemporary fiction, there's a book for every reader at our Local Author Fair. This year's fair will be our biggest yet, featuring 46 talented, up-and-coming writers. Check out this list, and mark your calendar for this very special afternoon. Browse, enjoy refreshments, meet and chat with the authors, purchase a book for signing - a signed book makes a truly memorable and unique gift! The first 50 attendees who purchase a book will receive a free Local Author Fair messenger bag.
This year's list of participating authors:

Paul Alan
Joan Wester Anderson
T.D. Arkenberg
Lotie Bagotti
Barrington Writer's Workshop
Donald J. Bingle
Dellen Blackmon
Dyllis Braithwaite
Deanna Cabinian
Dennis F. Depcik
Lance Erlick
Kathi Frelk
Virginia Hanson
Elizabeth Harmon
Jason Hill
Julie Kendrick
Bob and Yasmin Kinton
Trudy Kleckner
Vanessa M. Knight
Diane P. Kostick
Christian Larsen
Claudia M. Lenart
Margie Macak
Patricia M. McClure
Cynthia Ripley Miller
Dawn Napier
Catherine Chifflot Nealey
Molly Page
Marsha Portnoy
Georgann Prochaska
James Proebstle
Laura Quinn
Dr. Shakuntala Rajagopal
Patrick Rizio
Kimberley Schumacher
Patricia Shinn Wojtowicz and Christine Petersen Streed
Gerry and Janet Souter
Thomas J. J. Starr
Susan Schulhof
Jen Vakharia
Amy Wagner
C.J. Warrant
Jeffrey Westhoff
Donn Ziebell