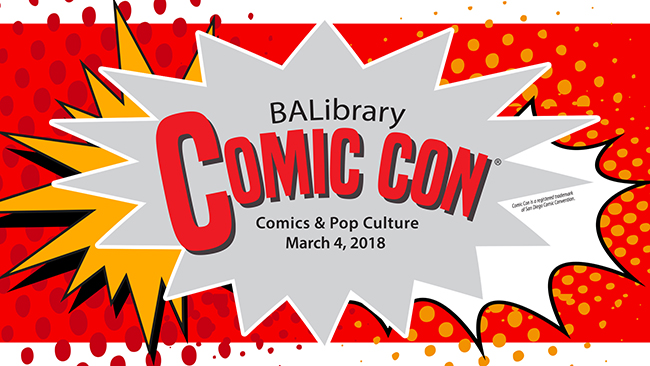 Sunday, March 4, 2018, from 1:30 - 4:30 PM
Drop in - registration appreciated but not necessary


Come celebrate your favorite fandoms at our second annual BALibrary Comic Con®!
Open to all ages, this free event offers something for everyone:
▶ A
cosplay contest from 3:30 - 4:30 PM
Prizes awarded for best baby/toddler, best child, best adult, and best overall.
Activities Just For Kids:
▶ Superhero Storytime
– Attention, superheroes! Bring a cape (and a grownup!) to enjoy a superhero-themed storytime, filled with action, adventure, and music!
▶ Mask-Making
– Every good hero needs a disguise – so why not make one at the Library? Hide your secret identity with an easy-to-make mask.
▶ Superhero Cuff-Making
– Protect yourself with some nifty superhero cuffs!
▶ Popsicle Stick Superheroes
– Draw one of your favorite heroes on a popsicle stick, and carry a superhero with you everywhere you go!
▶ Robot Scavenger Hunt
– Our favorite robots in disguise are hiding around the Library! Find them all and you'll earn a sticker!
---
▶ Artist's Alley: meet and greet 25+ artists and authors in our Artist's Alley! Buy a comic or a book, make a connection, find a hidden treasure.
▶ LEGO artist Ara Bonsignore returns!
▶ 1:30 - 2:30 PM: Airbrush Makeup Demo
Chicago area airbrush artist Marija Filipovic introduces you to the coolest techniques. Then visit her in the Artist's Alley!
▶ 1:30 - 3:30 PM: Face Painting
Cara Dunning is back and this time, she's brought her face painting supplies! So if you didn't come in costume but want a little pizzazz, stop by and see her in the Youth Services department.
▶ 2:45 – 3:30 PM: Iron Artist Competition
Three artists, a mystery drawing prompt, a ticking clock, and a series of wild and crazy extra activities – watch it all go down live on our stage!
▶ Crafts: make your own Dragon's Egg or Magic Wand!
▶ Photo Ops Galore! Bring your camera or try one of our photo booths. Snap a pic with The Stay Puft Marshmallow Man, Tangled's Rapunzel, a Dalek straight out of Doctor Who. Try on some crazy special effects in our digital studios. Then grab a photo with one of our amazing costume groups: Age of the Geeks, Windy City Ghostbusters, Dreams To Doors princesses, and a GI Joe group. Your Facebook profile will never be the same!