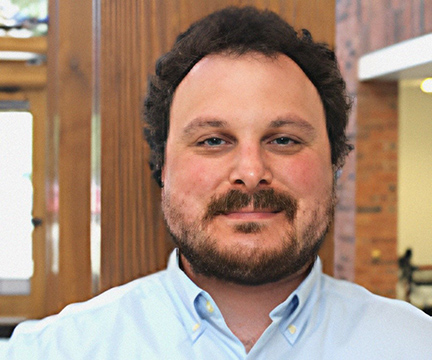 Jason Pinshower, new Executive Director of the Barrington Area Library
Jason Pinshower, current Head of Operations for the Barrington Area Library, will move into a new role as the Library's Executive Director on January 12. Pinshower replaces Vicki Rakowski, who joined the Library staff in 2017 and has served as Executive Director since February 2021. Rakowski is leaving to take on a new opportunity at the helm of another suburban Chicago public library.
"While we are sorry to see Ms. Rakowski move on to another library, we are excited to name Mr. Pinshower as our new Executive Director," said Library Board of Trustees President Carrie Carr. "It speaks to the high caliber of our staff that such a well-qualified internal candidate can be promoted to the leadership role. We are confident that Jason is the right person at the right time to take the Barrington Area Library forward."
Pinshower began working at the Library in 2018 as Head of Adult Services, and stepped into the role of Head of Operations in June 2021. He earned a Masters of Library and Information Science from University of Wisconsin–Milwaukee in 2013. He has worked in libraries for 20 years, and came to Barrington after four years at the Fox River Valley Public Library District in East Dundee, where he served as Librarian, Digital Services Manager, and Adult and Teen Services Manager.
"I am humbled and honored to be the next Executive Director of the Barrington Area Library. It has been a joy working with our amazing staff and community over the past four and a half years, and it is the greatest pleasure of my career to lead and serve the Library in my new position. I look forward to continuing the strong momentum our organization has built up, utilizing our values to lead our Library into the future."
Pinshower enjoys hiking, fishing, and the outdoors, along with music and, of course, reading. A lifelong resident of the northwest suburbs, he lives in Cary with his wife and three children.
The Library and its Board of Trustees extend their gratitude to Rakowski for her leadership and service. Carr stated, "Our Library has been very fortunate over the years to benefit from executive directors, such as Ms. Rakowski, who have continually improved and advanced upon our mission. She will be greatly missed by staff and patrons. We wish her much continued success in her new role and career."
"I have loved my time at BALibrary. It's been an honor to work with our remarkable staff, and to serve this wonderful community," Rakowski said. "Mr. Pinshower will do a fantastic job leading the organization, and I know he and the staff will continue to do great things."