Wellons B. Homuth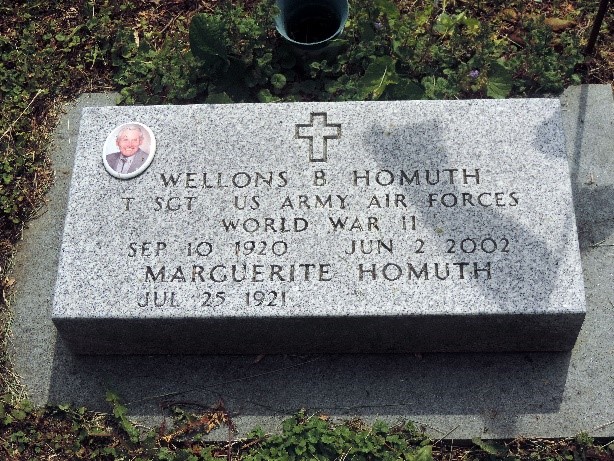 1920 - 2002
Army Air Corps
WWII
Wellons Burnace Homuth was born September 10, 1920, in Barrington to Walter and Lula (Haight) Homuth.
"Homer" grew up in East Dundee enlisted in the US Army on October 12, 1942, and served as a member of the 446 Bomb Group of The Mighty "8" Air Corps until his release on October 5, 1945.
He married Marguerite Traub on February 7, 1948 in Dundee, Illinois, with whom he raised two daughters and three sons.
Tech Sergeant Homuth was a former employee of Illinois Bell Telephone Co., with 35 years of service prior to his retirement in 1982. He was very active in several civic organizations including a membership for many years in the Dundee Lions Club, where he served as past president. He was a member of the American Legion Post #57 of Elgin, and the Illinois Bell Pioneer Club.
Tech Sergeant Wellons Homuth died June 2, 2002, in Elgin, Illinois. He is buried with his wife, Veteran brother Theron, and parents in Evergreen Cemetery.
-----
Remember. Honor. Teach.
Courtesy of Signal Hill Chapter, National Society Daughters of the American Revolution