Herbert Willis Landwer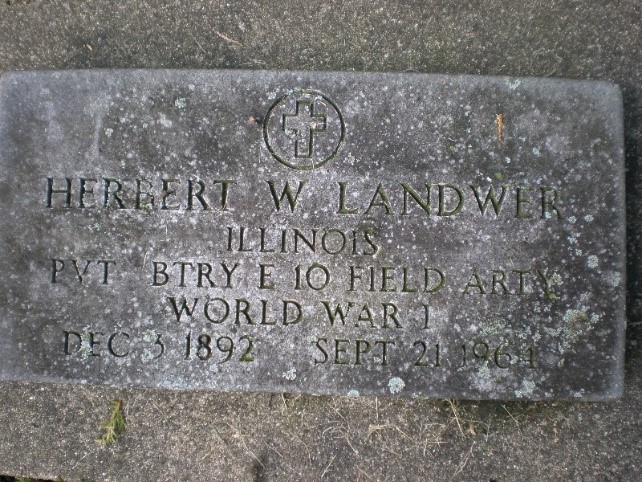 1892-1964
US Army

WWI
Herbert Willis Landwer served as a private in Battery E of the 10th Field Artillery during WWI.  He enlisted in 1917 at age 24, listing his occupation as carpenter.  After training at Camp Jackson, South Carolina, Herbert shipped out to Europe in July 1918.  He returned from Brest, France in late 1919.
The 10th Field Artillery Regiment was formed at Camp Douglas in 1916. It served in France during World War I, specifically in the Champagne-Marne, St. Mihiel, Meuse-Argonne and Champagne-Marne campaigns. Its motto "The Rock's Support" was bestowed on it due to its support of the 3rd Division ("The Rock of the Marne") at the Second Battle of the Marne.
Herbert was born in Palatine, the son of German immigrants JH and Louisa Landwer.  By the 1900 census, Herbert's family was living in Barrington, listing their occupation as farmers.  After the war Herbert returned to Barrington where he lived until his death in 1964.  Herbert had two sons and made his living in custodial services. 
_____
Remember. Honor. Teach.
Courtesy of Signal Hill Chapter, National Society Daughters of the American Revolution