Joshua Abbott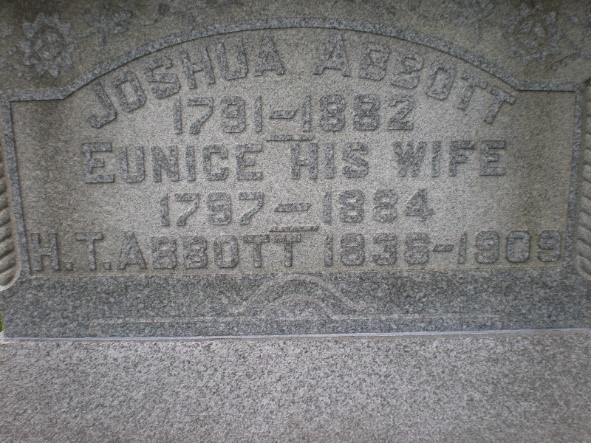 1791-1882
War of 1812
Joshua Abbott was born in 1791 in Merrimack County, New Hampshire, the son of Revolutionary War soldier Joshua Abbott Sr. who served as a private in the Massachusetts/New Hampshire lines.  
Joshua enlisted in 1813 at Sacketts Harbor, New York and joined the 68th regiment of the New York militia under Captain John Smith. 
Joshua married Eunice Babcock in Oneida, New York in 1817 and settled there until the 1850's when they moved to the Barrington area.  There Joshua made his living as a farmer until his death in 1882 at the age of 90.
Joshua and Eunice's son Henry T. Abbott fought in the Civil War and is buried in the same plot as his father and mother at Evergreen Cemetery
Henry T. Abbott
1836-1909
Civil War
Henry T. Abbott served as a private in the 52nd Illinois Infantry during the Civil War, which was mustered into service in November 1861 in Geneva, Illinois.   Henry served for three years.  The 52nd Illinois Infantry lost two officers and 59 enlisted men who were killed in action or mortally wounded, and 119 enlisted men who died of disease, for a total of 180 fatalities.  They saw action at a number of critical battles of the Civil War, including the Battle of Shiloh, Siege of Atlanta, Battle of Jonesboro and the March to the Sea.
Born in Oneida, New York, Henry was the son and grandson of soldiers who fought in the War of 1812 and the Revolutionary War.  He moved with his family in the 1850's from New York to Barrington, where he found work as a railroad agent.  After returning from the war, Henry moved in with his parents and became a druggist, establishing the firm of HT Abbott Druggist and Watch Repair which operated in Barrington for a number of years.  He never married.
-----
Remember. Honor. Teach.
Courtesy of Signal Hill Chapter, National Society Daughters of the American Revolution