Eli Abbs (1835-1924)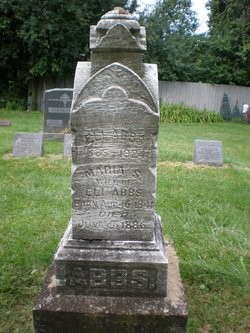 Eli Abbs is one of 32 Civil War Veterans buried at Evergreen Cemetery in Barrington, Illinois whose service is honored with a live balsam wreath on Wreaths Across America Day in mid-December.
Private Eli Abbs of Dunton, IL (now Arlington Heights) served in Company B of the 72nd Illinois Infantry from its muster in Chicago on 21 Aug 1862 until 15 May 1865.  The regiment suffered a total of 234 fatalities over the course of 3 years of existence.
Pvt. Abbs was born in England on 3 May 1835 and died at age 89 on 22 Jun 1924 in Cook County, Illinois. He immigrated to the US in 1856, and married wife Maria S Hillman (1841-1886), a German immigrant, about 1860, and they had 8 children together. In 1860, he was a farmer in Wheeling, but he removed to Cuba Township in Lake County after the Civil War where he was a farmer in 1880. 
His first wife Maria died in 1886, and he remarried Susan (1839-1902), another English immigrant, the year following.  In 1900, he and his family lived on Austin Avenue in Chicago where Eli was a Real Estate Agent.  Susan died in 1902, and Eli married his last wife, Emily Lowe (1855-1922) in Chicago in 1904.
Eli Abbs died in Chicago on 24 July 1924, two years after his wife passed, and his death record describes his occupation as retired milkman. Buried with Eli Abbs at Evergreen Cemetery are his three wives and his daughter Grace (1873-1886). 
Other children:  Alice M. (1861-), Charles H. (1863-), Albert E. (1867-1936), Edward L. (1868-1918), Archibald J. (1871-1962), and twins Gertrude M. "Gertie" Ross (1879-), Bertram M. "Bertie" (1879-1937).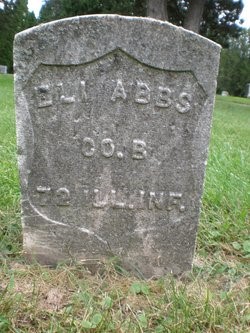 -----
Remember. Honor. Teach.
Courtesy of Signal Hill Chapter, National Society Daughters of the American Revolution