LeRoy N. Schneider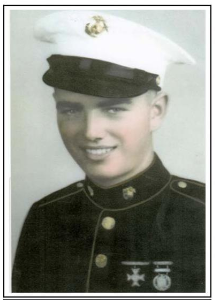 1921-2007
USMC
WWII
LeRoy N. Schneider was a highly decorated U.S. Marine Corps Veteran who fought in the defense of Wake Island. Among his numerous military decorations were a Purple Heart, the POW Medal, the Presidential Unit Citation, the Marine Expeditionary Ribbon with Silver W, and the Marine Corps Good Conduct Medal with one Bronze Star.  
Staff Sergeant Schneider was born in 1921, raised in Wilmette as one of 4 children born to Philip and Catherine Goedert Schneider. He joined the Marine Corps in June 1940 and participated in the 16-day battle in December 1941 to defend Wake Island against the Japanese, who attacked Wake just four hours after the attack on Pearl Harbor. Greatly outnumbered, the defenders were captured and Schneider spent the next three years and nine months in Japanese slave labor camps, working up to 20 hours a day. In the summer of 1945, he became unable to work or walk due to a serious infection that nearly took his leg before Schneider and his comrades were liberated in September. For his participation in the defense of Wake Island, he and his comrades were awarded the First Presidential Unit Citation by President Franklin D. Roosevelt.
After his recovery at Great Lakes NAS and discharge in 1946, he married Cecilia Rizzo of Skokie; in their 61 years together, they raised two sons and three daughters. Schneider worked in the concrete industry until he retired in 1980. He was a life member of American Ex-POW, VFW, DAV, American Defenders of Bataan and Corregidor, American Legion, Marine Corps Association, Marine Corps Historical Society and Wake Island Defenders Organization.
Note: A detailed description of USMC Veteran LeRoy N. Schneider's military experiences may be found in Wake Island Reunion by Stanford D.  Carmen.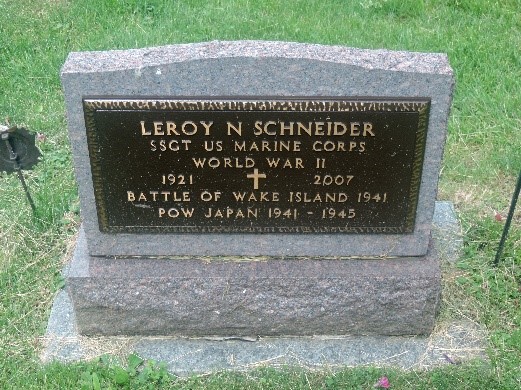 ----
Remember. Honor. Teach.
Courtesy of Signal Hill Chapter, National Society Daughters of the American Revolution<