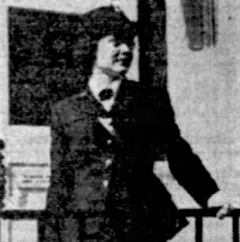 Hazel Beatrice Hollingsworth Powell
1917 – 2014
USN
WWII
Hazel Beatrice Hollingsworth was born on September 12, 1917, to George and Lena Hollingsworth in Greenwood, Mississippi. She graduated in 1937 from Millsaps College in Jackson, Mississippi, and worked in school supply sales before volunteering as a Navy WAVE in 1942. She was commissioned following US Naval Reserve Midshipman's School in Northampton, Massachusetts, then assigned communications duties at the Submarine Chaser Training Center in Miami, where she met her future husband.
In response to the attacks perpetrated along the East Coast on the Allied merchant ships by Nazi U-boats, the United States Navy established the Submarine Chaser Training Center in Miami. The SCTC trained Naval subchaser officers and sailors in maritime combat skills to operate the anti-submarine fleet under construction. Between 1942 and 1945, the SCTC became Miami's largest industry. More on SCTC: http://dpanther.fiu.edu/sobek/content/FI/18/05/09/00/00070/FI18050900_00070_00003.pdf.
Ensign Hazel Hollingsworth married Ensign Edward Schuyler Powell in Coconut Grove, Florida on November 15, 1943. After spending many years raising her four daughters and son, she became an elementary school teacher in Carpentersville. Mrs. Powell was a proud participant in Veteran celebrations in Barrington, such as the Memorial Day Parade and July 4th Parade. Ensign Hazel Hollingsworth Powell died on July 15, 2014, and rests with her Veteran husband at Evergreen Cemetery in Barrington, Illinois.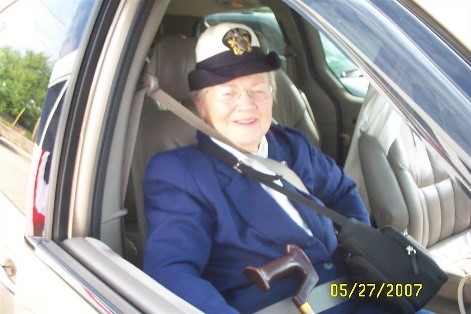 -----
Remember. Honor. Teach.
Courtesy of Signal Hill Chapter, National Society Daughters of the American Revolution