Evelyn Roslyn Johns McNeil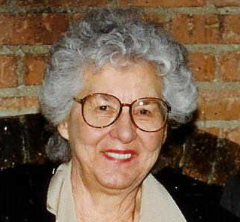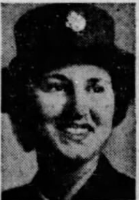 1921 – 2003
USAR
WWII
Evelyn Roslyn Johns was born in Chicago, Illinois, on February 17, 1921 to Joseph and Emma (Henrichs) Johns. Her father was an immigrant from England and former gold miner.
She grew up in Chicago, and joined the WAC in 1943, serving in Georgia and other southern states before returning home as a First Sergeant in 1945. Miss Johns played baseball in in a women's league before working for a Chicago-based detective agency. Later she managed customer service employees at Blue Cross in Chicago until her retirement in the 1970's.
Miss Johns married Army Veteran Earl K. McNeil on November 9, 1956 in Chicago. They enjoyed trapshooting and golf and traveled extensively during their 45 years of marriage.
First Sergeant Evelyn Johns McNeil died October 27, 2003 and is buried by her husband in Evergreen Cemetery.
-----
Remember. Honor. Teach.
Courtesy of Signal Hill Chapter, National Society Daughters of the American Revolution