Jane Patterson Capulli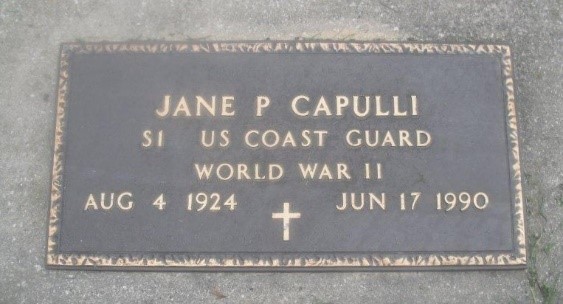 1924 – 1990
USCG
WWII
Marion Jane Patterson was born August 4, 1924 in Toledo, Ohio to William and Marion (Uebberoth) Patterson.
She enlisted in the Coast Guard on September, 1944 and served until April, 1946.
When World War II came, the Coast Guard and the other services found themselves in great need of more men at sea and more troops on foreign soil. They acknowledged that filling U.S. shore jobs with women would allow more men to serve elsewhere and hasten the war effort. The SPARs, a play on the Coast Guard motto, Semper Paratus, were the answer to the Coast Guard's problem. It was duly clever as a spar is a supporting beam on a ship and symbolized the key supporting role that the Women's Reserve would play for the service.
These women were under military direction, and they were subject to assignment according to the needs of the service. This was one of the key factors in using women as part of the military force. The jobs they were filling could not have been done by civilians working for the armed forces because they were not as mobile and did not fall under military law and discipline. Unlike their WAC and WAV counterparts, a SPAR's pay was equal to a male counterpart. In 1947, the SPARs were disbanded as the Coast Guard prepared for the return of its male service members; more than 10,000 young women served in this Coast Guard Reserve force during the War.
Miss Patterson married Daniel Capulli on March 12, 1959 in Waukegan, Illinois. Together they raised a son and four daughters.
Specialist 1st Class Jane Patterson Capulli died June 17, 1990 and is buried with her husband – also a Veteran – in Evergreen Cemetery.
-----
Remember. Honor. Teach.
Courtesy of Signal Hill Chapter, National Society Daughters of the American Revolution