Delores Elmina Lavine Robinson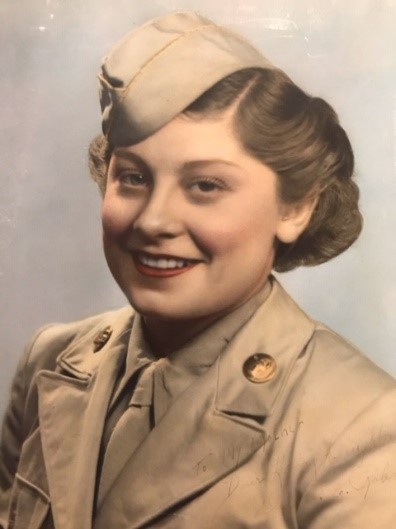 1924 – 2019
USAAC/USAF
WWII and Korea
Delores Elmina Lavine Robinson was born August 27, 1924 in Chicago, Illinois to Henry and Silence (Duchesne) Lavine.
Airman First Class Robinson was a proud veteran of the U.S. Army Air Corps/Air Force, serving during WWII and the Korean War. She enlisted as a WAC on August 28, 1944, and remained as a WAAF beyond the conclusion of WWII. Her final post was at Hickham Air Field in Hawaii with 1500th Air Transport Wing of the Air Force until it was decommissioned in 1952.
The National Security Act of 1947 made the Air Force a separate military service. That year, some Women's Army Corps (WACs) members continued serving in the Army but performed Air Force duties. In 1948 they were able to transfer to Women in the Air Force (called WAF), and some did. WAF was created in 1948 with the Women's Armed Services Integration Act, which gave women permanent status in the Regular and Reserve forces of the Air Force. By the end of World War II, women were fully incorporated into the military, although still primarily limited to mostly clerical roles such as typists, clerks and mail sorters, and represented only about two percent of the force.
Airman 1st Class Delores Robinson was a lifetime member of American Legion Post #1188, Minooka, IL. She died on September 7, 2019 and rests at Evergreen Cemetery, Barrington, IL with her mother and grandmother.