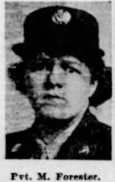 Marjorie Forester Anderson
1922 - 2009
USAR
WWII
Marjorie Forester was born in Chicago, Illinois on May 6, 1922 to Armstead "Ted" and Amy (Blood) Forester.
She was a file clerk before she enlisted as a WAC on November 11, 1943, following her two older brothers into military service during WWII. She served two years.
Miss Forester married George C. Anderson in Cook County, Illinois, on 19 Jul 1949; together they raised one daughter.
Tec 5 Marjorie F. Anderson died April 15, 2009 in Itasca, Illinois, and is buried with her husband at Evergreen Cemetery in Barrington, Illinois.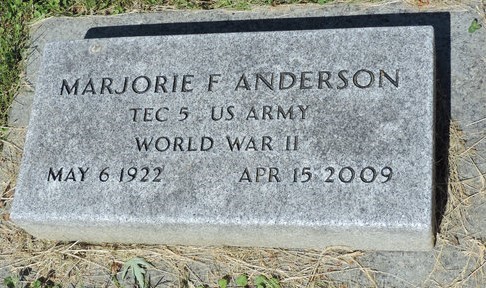 -----
Remember. Honor. Teach.
Courtesy of Signal Hill Chapter, National Society Daughters of the American Revolution