Etta Mae Hutchinson Rowland
1915 – 2004
USAR
WWII
Etta Mae Hutchinson was born November 21, 1915 in Barrington to Charles and Myrtle (Robertson) Hutchinson.
She worked for Jewel Tea as a comptometer (early version of calculator) operator after graduation from Barrington High School.
Miss Hutchinson enlisted in the Women's Army Corps in September 1942, and served until December, 1945, when she was discharged as a Tech Sergeant.
Tech Sergeant Hutchinson married another WWII Veteran, Roscoe "Buck" Rowland, in Barrington on January 12, 1946, and they raised two daughters. She managed the office and kept the books at her husband's business until it was sold in 1981. After her husband passed away, she traveled extensively.
Tech Sergeant Etta Mae Rowland died on October 21, 2004 at her Wauconda home and is buried with her husband at Evergreen Cemetery in Barrington, Illinois.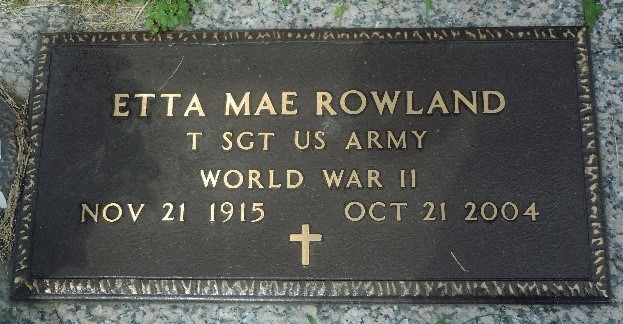 -----
Remember. Honor. Teach.
Courtesy of Signal Hill Chapter, National Society Daughters of the American Revolution