Louis C. Bischoffer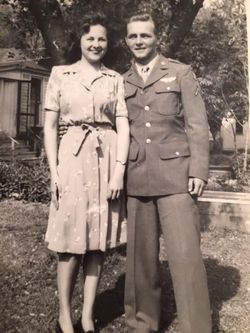 1926 - 1997
USAR Army Air Corps
WWII
Louis Charles Bischoffer was born April 10, 1926, in Chicago, Illinois, to Raymond and Gertrude (Rheingruber) Bischoffer at Chicago, IL.
He attended Lane Technical School in Chicago, then enlisted on November 17, 1945 and served in the Army Air Corps during World War II.
Sgt. Bischoffer married Virginia Lee Biermann on July 1, 1950, in Des Plaines, Illinois. They raised three daughters and one son in Palatine.
He followed his father into the plastering trade, working for 56 years. He was instrumental in the plaster renovation of the interior of the Chicago Theatre and he casted the plaster mold for the bronze sculpture that stands in front of the State of Illinois Building at Rockford, IL.
Sergeant Louis Bischoffer died June 5, 1997 at his home in Palatine. He is buried with his wife, parents, and in-laws at Evergreen Cemetery.
_____
Remember. Honor. Teach.
Courtesy of Signal Hill Chapter, National Society Daughters of the American Revolution