Lyman Leroy Powers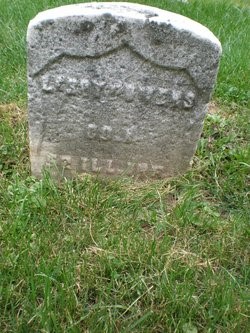 1841 – 1906
Civil War
Co I, Illinois 52nd Infantry Regiment
Lyman Leroy Powers was born in Cortland County, New York, on 22 February 1841, the son of Lyman and Mary (Lake) Powers. The family moved to Lake County, Illinois in 1853 where he was raised on his father's farm.
In 1861 he enlisted in Company I, 52nd Illinois Volunteers, and participated in the battle of Corinth, first and second battles of Atlanta, Bentonville, and other engagements of his command. He mustered out as a First Sergeant on July 6, 1865.
In 1866, Leroy Powers married Hannah M. Kingsley of Barrington.
By 1870, he was living in Barrington, having engaged in mercantile business at Dundee, Illinois, later forming a partnership with H. G. Willmarth. For twelve years the partners conducted one of the most prosperous general stores in the area. When his partner retired, Powers conducted the business as a sole proprietor until 1905, carrying a full stock of general merchandise.
First Sergeant Leroy Powers died on May 30, 1906; he was an esteemed local merchant and Postmaster of Barrington from 1875 to 1885. He is buried with his wife at Evergreen Cemetery.
-----
Remember. Honor. Teach.
Courtesy of Signal Hill Chapter, National Society Daughters of the American Revolution