George Ely Van Hagen III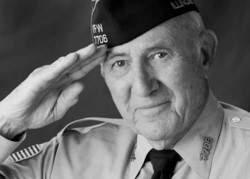 1923 – 2015
USN
WWII
George Ely Van Hagen, III was born April 11, 1923 in Chicago, Illinois, to George E. (Jr.) and Ardietta (Ford) Van Hagen. He was a great, great, great grandson of William Henry Harrison, 9th President of the United States. He was a graduate of Culver Academy, and attended Cornell University, School of Engineering before being called to active duty in the Navy Air Service in the fall of 1942.
Van Hagen graduated from Pensacola, receiving his commission as an Ensign and his Navy Wings in 1944. He saw combat while serving on the aircraft carrier, USS Independence in 1945. He was shot down off the island of Honshu, Japan, and rescued by a U.S. submarine; for this action, he was awarded the Combat Action Ribbon.
Upon returning from the Navy in 1945, Van Hagen attended Northwestern School of Commerce, where he majored in Public Relations and Journalism. He was initially employed by the Peabody Coal Co. as Director of Community Relations, and became Managing Editor of the Small Homes Guide Publishing Co. of Chicago in 1950. Ten years later, he and a group of partners started the Tri-Rental Co. of Elk Grove, IL., which leased lift truck equipment to industrial users in the Chicago area. Van Hagen retired from business in 1985 and earned his Illinois Real Estate license.
Van Hagen was married in 1950 to Barbara Kransz of Winnetka, Illinois, and they had a son before divorcing in 1965. He married Sarah Bohannon of Oak Park in 1969. They had one daughter.
Van Hagen received recognition throughout his life for his community service; he was a lifelong member of Barrington VFW Post 7706, and the Barrington Historical Society.
Lieutenant George Ely Van Hagen III died on October 31, 2015 in Barrington, and rests forever at Evergreen Cemetery with his wife, brother, parents and grandparents.
-----
Remember. Honor. Teach.
Courtesy of Signal Hill Chapter, National Society Daughters of the American Revolution