Frank S. Filkins
1839 – 1905
Civil War
Co G, 50th Wisconsin Infantry
Frank Sylvester Filkins, M.D., was born Feb. 12, 1839, near Albany, New York, to Langdon and Phebe (Mickel) Wilkins. Before he was 12, the family moved to Walworth County, Wis., where his father bought a large farm.

In February, 1865, he enlisted in the Fiftieth Wisconsin Infantry and mustered out as a Sergeant on June 14, 1866. Following his service, he married Sarah E. Winchester, on October 2, 1867 in Pierce County, Wisconsin. A daughter was born to the couple in 1868.
Dr. Filkins was a graduate of Bennett Medical College in Chicago and held an honorary membership in the Wisconsin State Medical Society.
Doctor Filkins and family resided in Barrington and Northern Illinois more than 30 years. He died at his home in Arlington Heights on February 20, 1905, and is buried with his wife, daughter and son-in-law at Evergreen Cemetery.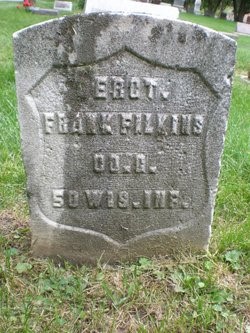 -----
Remember. Honor. Teach.
Courtesy of Signal Hill Chapter, National Society Daughters of the American Revolution