Robert Alfred Johnson
1924 – 2009
USAR
WWII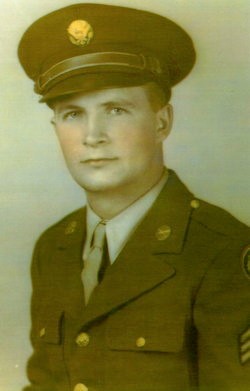 Robert Alfred Johnson was born on June 16, 1924 in Chicago, Illinois, the son of Alfred M. and Louise (Gruenewald) Johnson. The family moved to Barrington in 1938, where he graduated from Barrington High School in 1942.

Robert Johnson honorably served in United States Army from 1943 to 1945 as a First Lieutenant. After completing basic training in Fort Jackson, South Carolina, he was sent to England where he joined the 4th Infantry Division. He was at Utah Beach on D-Day, and continued to see action in Normandy and central Europe. He was awarded five Bronze Stars for his combat service, two personal Bronze stars, and the Fourragere Award from Belgium.

He married Lidia Shiley on June 4, 1943, in Columbia, South Carolina, and they raised a son and daughter. 
Johnson was employed for more than 40 years as a milkman for Jewel Foods. He was a member of Barrington American Legion Post #158 and VFW Post 7706 before moving to Buffalo, Minnesota in 2007.

First Lieutenant Johnson passed away on December 30th, 2009, at his residence in Buffalo, Minnesota. He rests forever at Evergreen Cemetery with his wife, parents, and in-laws.
 -----
Remember. Honor. Teach.
Courtesy of Signal Hill Chapter, National Society Daughters of the American Revolution