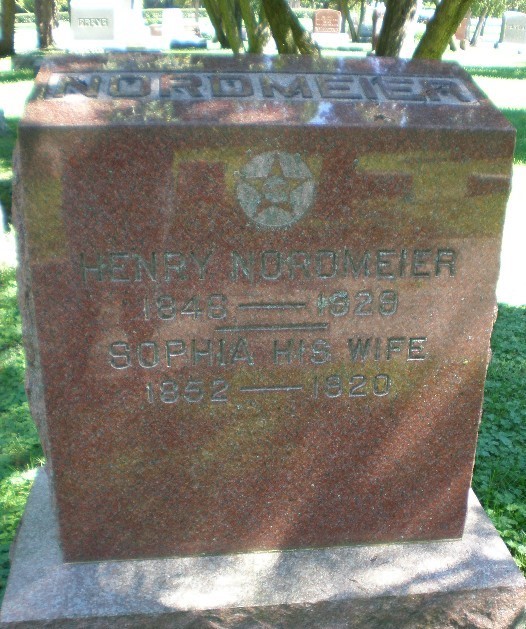 Henry Nordmeier
1845 – 1929
Civil War
Henry Nordmeier was the last surviving Civil War veteran of Barrington. 
He was born Heinrich Nordmeier on April 20, 1846, in Hessen, Germany, the son of Ennes and Christien Nordmeier.  He came to America in 1860 and settled first in Fremont Township, Lake County, Illinois, where three brothers and three sisters also lived.
Despite the signature shown above from Civil War volunteer papers, his name was Anglicized as "Henry Nortmeyer/Nortmyer", when he enlisted in Company F, 39th Regiment, Illinois Infantry at Waukegan, Illinois, on February 8, 1864. Henry served through the end of the war, being honorably discharged on December 6, 1865. He participated in 20 battles, 14 of them heavy encounters, and was present in Appomattox at the surrender of General Lee. His pension records indicate he suffered from sun stroke while in the service, which affected his ability to labor in the sun for the remainder of his life.
Pvt. Nordmeier married Sophia Seip on January 20, 1870 in Fairfield, Lake County, Illinois. They were the parents of 17 children, 13 of whom survived to adulthood and remained in Lake County.
He was a tax collector for the town of Fremont in 1877-1878.  He and his wife moved to Barrington in 1903, where they remained for the balance of their lives.

Pvt. Henry Nordmeier died on January 23, 1929, and is buried at Evergreen Cemetery with his wife and several children.

 -----
Remember. Honor. Teach.
Courtesy of Signal Hill Chapter, National Society Daughters of the American Revolution