What's on right now in the Gallery?
March 2020: ExpressionKTY + MakerLab: with local artist Catherine Chifflot Nealey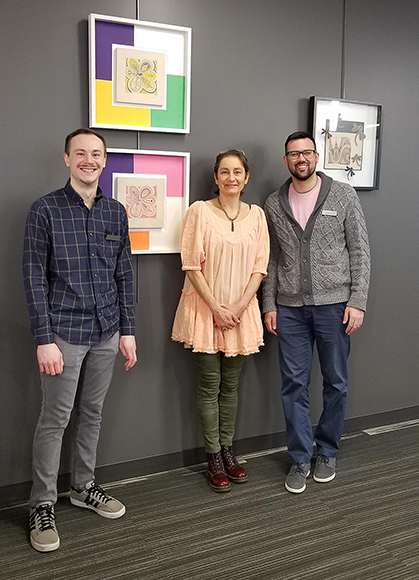 Catherine Chifflot Nealey (seen here with Digital Services Specialist Ken Fritz and Digital Services Manager Mike Campagna) has transformed her original illustrations, by using materials like paper, glass, mirrors, wood, and leather, and technology found in our MakerLab. Explore these colorful and reflective interpretations, and let them inspire your own creative journey.

The artist Catherine Chifflot was born and raised in France. She is a graduate of Corvisart École d'Art Graphique Paris. Currently she lives in Barrington Hills, where she continues her creative journey amidst the beauty of her surroundings inspired by a lifelong love of nature design and her passion for yoga.
Catherine began drawing as a simple expressive act. Each piece of art begins as blank white space. She frees her mind, and with a black marker lets her hand move, giving shape and form to her awareness. Every design reveals a new story.
Her artwork reflects the detail and precision inherited from a French grandfather and father who were industrial designers. The design's suppleness, harmony, and spontaneity are the influence of her Italian mother. Together they form the foundation of Catherine's art. These imaginative and magical designs are the result. Pricing and information sheet.